RHEINFELDEN
Bettina Costa creates collages in which familiar places become a surreal adventure. For this, the artist from Rheinfelden uses paper, scissors, scalpel and glue. But that is not her only form of art.
Peter Schütz — az Aargauer Zeitung
07.02.2022, 05.00
Instead of the sky, a bathing scene as in the Rhine appears above the Feldschlösschen brewery, while in the foreground a puppy gazes spellbound at a billiard ball. Opposite the old town, skiers are enjoying themselves in the sunlit snow, above the tower of the town hall rises a face with closed eyes, into which a mountaineer is sticking his peak.
And on the roof of the Red House on Habich-Dietschy-Strasse in Rheinfelden, a herd of elephants is tramping around, watched by people on a beach that leads right up to the front door. Not far from there, lives the creator of these bizarre pictures: Bettina Costa, born in Rosario, Argentina in 1965, living in Switzerland since 2001 and in Rheinfelden since 2006, adds new perspectives and stories to the «normal» view of local sights.
The 56-year-old artist describes the series called «Rheinfelden surreal» as a «humorous-provocative examination of my place of residence». She uses photos she took herself as a basis, the other elements she takes from magazines.
«I work very precisely, I'm picky»
There is a similar series from Budapest, two others are entitled «Intervenciones» and «Surreal Collage». «It's a game», says Bettina Costa. A game between inspiration and ideas, perception and the courage to turn familiar things upside down. The art is not only in the pictorial arrangement, but also in the technique. Costa does not make it as easy as the end result may look like.
Some collages are created digitally on the computer in small editions, others as one-of-a-kind pieces entirely done by hand. What the artist needs: «Good paper, good scissors, a good scalpel, good glasses, good light.» Her standards are high. «It must be perfect.» Everything has to be placed appropriately, then comes the most difficult phase: gluing. Costa needs a steady hand for that.
That's why this work is very well thought out, not at all spontaneous:
«I want things clear.»
And: «I work very precisely, I'm picky.» This also applies to painting, the second pillar of Costa's artistic cosmos. After a figurative-realistic beginning, she turned to geometric representation. Her painting is reduced to surfaces and lines, motifs are not recognizable.
Although these paintings may also appear to be simple, they are created through long, complex processes. Costa uses tape to achieve the clarity and compositional balance she envisions with paint and brush.
Costa turns recycling into an art form
But what about the thin monochrome canvases on wooden frames, some of which measure more than three metres? In Costa's flat, two of them hang vertically like beams on a high wall. Apart from a single colour, they contain nothing: no figures, no drawings. In this way, Bettina Costa uses them to divide the space, using architecture as a playground for a few concise interventions.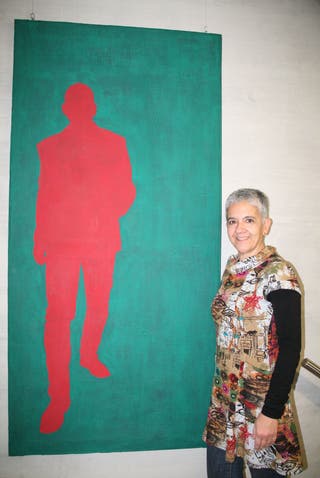 This is the story behind: in their first life, these canvases were the stage sets of the theater in the hotel owned by the parents of Bettina Costa's husband, Toni Scherrer, in Laufen. Instead of buying new canvases, Costa took the old backdrops stretched out on simple wooden slats and painted over them.
Thus, Costa turns recycling into a form of art. Speaking of the husband: on the staircase there is a green painting with a red faceless silhouette standing in the centre. Nevertheless, he is recognisable as Toni Scherrer. Here, too, Bettina Costa has achieved a high degree of recognition with minimal means.
View original article in German